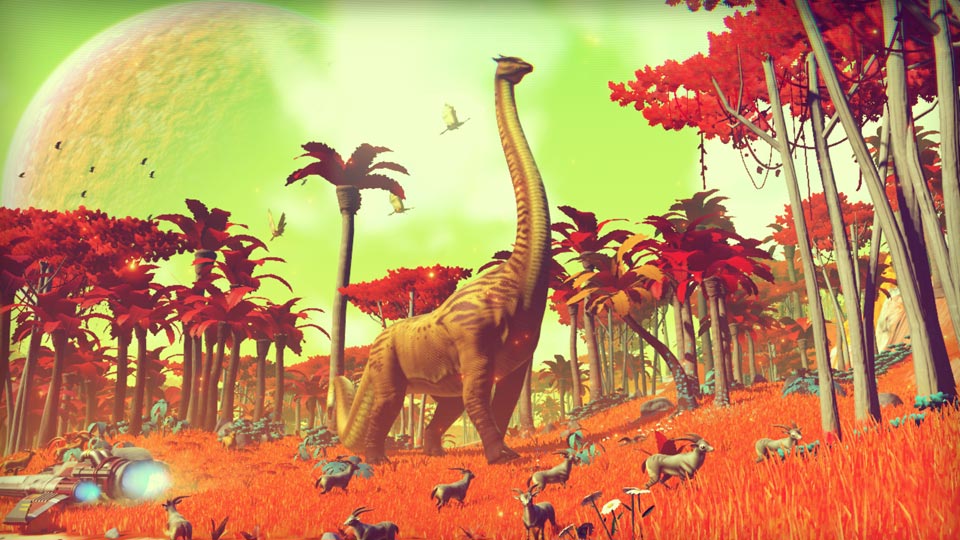 No Man's Sky: The game that never was
This is the first of a 2-part series I'll write about No Man's Sky. In the second part I'll focus on what I think the game should have been, here I'll talk about how deceitful I feel Hello Games, the developers of No Man's Sky, and especially their lead developer, Sean Murray, have been with the marketing of the game.
No Man's Sky was the perfect game to wow players and press alike. The game was marketed as a space exploration game with a universe consisting of 18 quintillion planets. 18 quintillion you say? That's a lot of planets! In addition to this unfathomable number of planets No Man's Sky also had the right setting, the right aesthetics and the right buzzwords to grab the attention of nearly anyone interested in video games. And right from the very first trailer the game looked gorgeous with vistas that looked like they were hand crafted, but were assuredly just one of 18 quintillion possible planets you could land on, every atom procedural we had been told after all. Add to this all the features talked about and shown by lead developer Sean Murray in interviews and demos and No Man's Sky sounded like the dream game for anyone. You could go anywhere and you could do anything, would we ever need other games after this one? We still didn't know what the actual gameplay would be like, but that just added to the mystery of this amazing game, the one game to rule all games. Or was it all too good to be true?
The game that never was
We're no strangers to false advertising in video games, Ubisoft are infamous for it with early gameplay demos that are in no way representative of the finished game, there's also Peter Molyneux with nearly everything he's worked on after he left Bullfrog, and then there's Aliens: Colonial Marines which is probably the worst offender of it, until now that is. No Man's Sky is the biggest example of false video game advertising I've ever seen. To give you an example of how bad it still is, this is how the Steam page for No Man's Sky looks like as of this writing: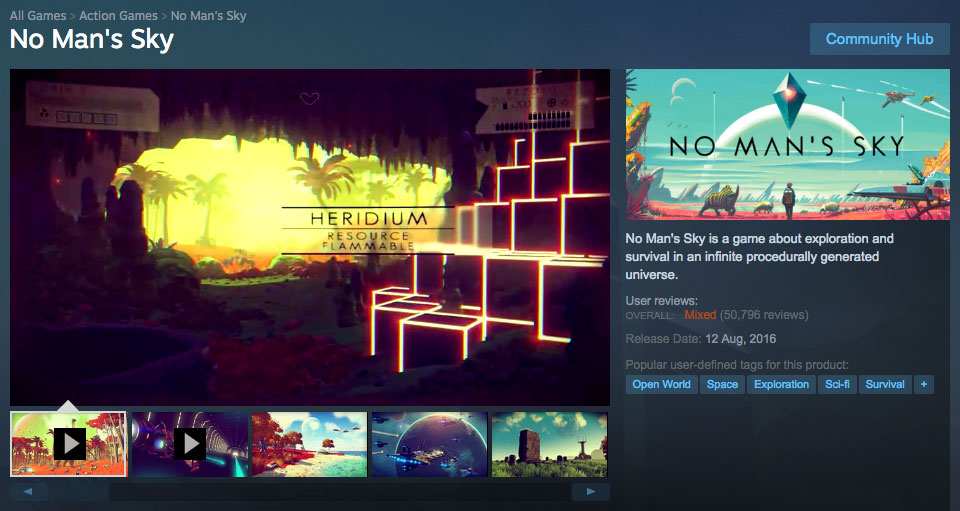 What's shown and described on the Steam page for No Man's Sky is a much better version of the game than the one you get if you buy it. The main trailer is from 2014 and the content it shows has been proven to have been hand crafted for that specific demo, probably because procedural generation is rough and getting something that looks real takes a lot of work so it's easier to just make it by hand and pretend that it's just 1 of 18 quintillion planets. Even the game's description in no way reflects the type of gameplay you'll actually find in the game, describing choices and events that don't exist in the game. On Reddit users have gone so far as to compile a massive list of all the features shown and talked about prior to the release of the game, but which are seemingly nowhere to be found in the finished game. I won't go into detail about this list, you can find it yourself if you're interested, the point is that the marketing for this game was shady from the very beginning, and still very much is. 
I don't care if Sean Murray knew the features he was talking about were in the game at one point or not, he lead players to believe they were and in the end it turned out they weren't. He's obviously not the first developer put in this position, but he handled it worse than most.
Multiplayer, the feature that never was
The biggest "dropped" feature and the biggest lie when it comes to No Man's Sky is undoubtably multiplayer. I wrote dropped in quotes because people are talking about it as if it was in the game at one point and then dropped before release, but I will explain to you why there's no way this particular feature was ever in the game. This is a testament to just how misleading the marketing for No Man's Sky was. Even now, over 2 weeks after the game's release, a lot of players are still unsure whether or not multiplayer is actually in the game, and no one at Hello Games have given a clear answer about it. If you're uncertain just look at this statement made by Sean Murray just prior to the release of the game:
The chances of two players ever crossing paths in a universe this large is pretty much zero.
Well, that clear is up, now you know for sure, right? No? Well, that's because it's a frankly insulting statement. Whether the chance of two players meeting is pretty much zero or one hundred percent doesn't matter one bit, either you have multiplayer or you don't. So let me just say this once and for all: There never was multiplayer in No Man's Sky and there never will be.
Think about this from a business point of view. You make a game that's inherently singleplayer in that most people will play the entire game entirely alone, but for some reason in the off chance that two players actually land on the same planet and make it to the same location as each other, you make animated third person view models for this specific scenario so these two players can see each other, models and animations that will never be seen by most players, and far worse than that, you make the entire game multiplayer easily doubling the amount of time it takes to complete the game. You do this for something most of your players will never experience. To finalize your business seppuku you never actually show this game defining feature in trailers or demos, or talk more about how it affects your game, instead you keep it hidden and talk about other features that are way less significant. It all sounds really, really dumb, doesn't it? Right, which is why it was never in the game to begin with.
Also multiplayer in No Man's Sky would instantly shatter the shared universe experience that the game was sold on. The only way the game could have multiplayer was if it was a massive multiplayer game like World of Warcraft, but if it was it would have been marketed as such, there's no reason to keep a feature like that hidden. But, Sean Murray has said all along that all the players in the game share the same universe. How can players share the same universe if they're not playing together in the same game or on the same server? They can because of how the game is made and this is how he's tricked players from the start.
Like two drops of water: How procedural generation works
What Sean Murray knew all along and what he used to con his audience was the fact that everyone who plays No Man's Sky does in fact play in the same universe. Let me give you an example of how something like this would work. Let's say that I tell 10 people I will generate 10 numbers using a random generation algorithm, write each number on a note and hand a note to each person, but rather than generate an unique number for each person I generate the same number for all 10. I can easily do this because random functions in computers uses what's referred to as a seed, a number that is the basis of the entire random generation, and if the seed is the same every time then the generated random number is the same every time. I can now tell the 10 people that they share the same number even though it was generated randomly, or procedurally if you will. This doesn't mean there's only one note, there's still 10 notes and each person has their own note, it's just that all the notes have the same number on them.
This is exactly what No Man's Sky does. Every player plays the game locally on his own machine in a universe randomly generated for him, but because the random generation uses the same seed for every player all the universes are identical. So if I take a screenshot of planet Earth in my game and you take a screenshot of planet Earth in your game it will look like we took a screenshot of the same planet, but in reality it's two different planets that just look identical because they were generated the same way. This is what players and press alike struggle to wrap their heads around, I guess their thought process is that if something is procedural then it is random, but that's obviously not the case, and this is what Sean Murray used from the start to sell No Man's Sky as a multiplayer game even though there is no trace of multiplayer in the game.
There were even two players who just after the game's release managed to find each other and get to the exact same spot. They could not see each other. To me and hopefully some others this came as no surprise, it just validated what we believed from the start, but players and press alike started discussing what could be the cause of this, was it due to server difficulties or something else? Bear in mind that this was after the game's release. The game has no mention of multiplayer on its Steam page nor on the boxed PS4 copies, yet players didn't know whether or not multiplayer was actually in the game. Has that ever happened before? I can't think of any developer or publisher being this shady and ambiguous with their players before.
The only feature in No Man's Sky that's even reminiscent of multiplayer is the discovery system which is very similar to the message system in Dark Souls. This is something you can add to any singleplayer game with not much effort at all. All you need for a system like this is to have a global server which you can upload names to, and then stream those names into the worlds of each player. You don't have to tackle any difficult multiplayer issues, but you give your players a sense of playing together. Putting these features together, the shared universe, the massive size of it, which we've been told over and over again would make actually finding other players almost impossible, and the discoveries which do in fact sync between players was the perfect setup for vaguely and falsely marketing No Man's Sky as a multiplayer game.
Fool me once, shame on you; fool me twice, shame on me
But all this trickery and deceit is pointless if nobody buys your game. So why do we? Why do we insist on pre-ordering and buying games before we know if they are any good? I honestly don't know, I've never done it and I hope others stop doing it as well because it's so harmful gaming as a whole. Complaining about a game after we have bought it doesn't really have the same impact as not buying that game in the first place. If you feel like No Man's Sky is still worth your 60 dollars after receiving all those mediocre reviews then by all means buy it, but don't buy it on the basis that you think it's going to be the best game in the world without actually knowing anything about it.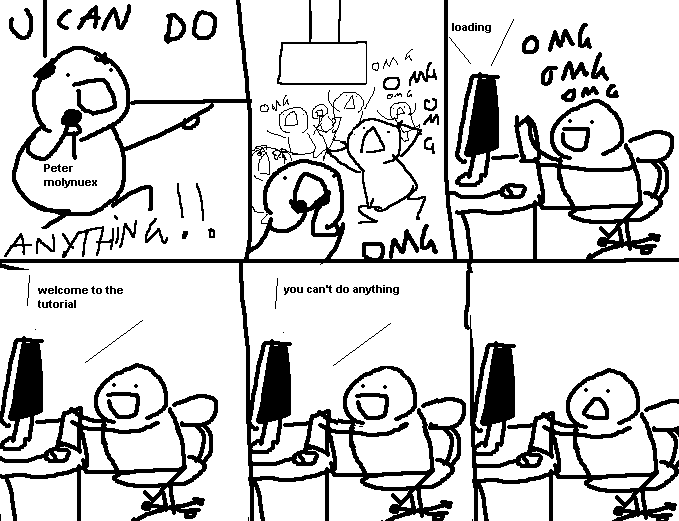 And why do we feel the need to help hype games that look too good to be true again and again? In every other facet of life if something looks too good to be true it usually means it is too good to be true, why haven't people learned this with video games still? If someone refuses to show the gameplay in their game it's because the gameplay is boring. If someone refuses to show the multiplayer in their it's because there is no multiplayer. You don't hide these features as a developer, well you do if you're a shady asshole trying to sell a lot of pre-orders before your customers figure out your game isn't any good, but you don't if you actually care about your players.
Even though I feel like Hello Games and Sean Murray deserve all the hate they are getting because they've handled this situation horrendously both prior to and after the game's release, I still think No Man's Sky looks like an alright game for what it is. I don't think it deserves any higher than the mediocre ratings it's being given, but if it was priced at a more fair price point I think people would be more forgiving and there's actually some really cool and unique features in the game. I do however think that by cutting features the end result would have been superior to what we got and in part two I will write about what I feel the game should have been like.
UPDATE: Part 2 is out and you can find it here:
http://twiik.net/articles/no-man's-sky-the-game-that-should-have-been